A couple of days before I head to Paris, I like to star my Google map with patisseries and chocolatiers I've yet to try. Because of the limited free time I get with my work schedule, I try to find places featured in click-bait articles titled "Best Patisseries In Paris" or "You'd Be Crazy *Not* To Visit This In Paris" or some other. I know this is super touristy and conformist of me but when you're in a city that boasts as many bakeries as New York has Starbucks, you've got to narrow them down some how. If someone bothered to write about them, they can't be that bad right?
I'm proud to say I've managed to try at least one new place with each trip but more often than not I find myself going back to places I've been to many times before. But rather than chide myself for my uncharacteristic tried-and-true mentality regarding French pastries/chocolates, I take this as a sign that I've found a place so good that it surpasses my curiosity to try something else. Sometimes the grass isn't always greener!
Whether you're craving for chocolate, macarons, croissants, or any other sweet delicacy these guys take the cake.
Pierre Hermé (aka my first foray into French pastry and chocolate)
I knew this place was legit when a coworker of mine, who is *not* a fan of sweets, recommended this place to me. Thank you Colin, I am forever grateful because once you introduced me to Pierre Hermé, I couldn't get enough.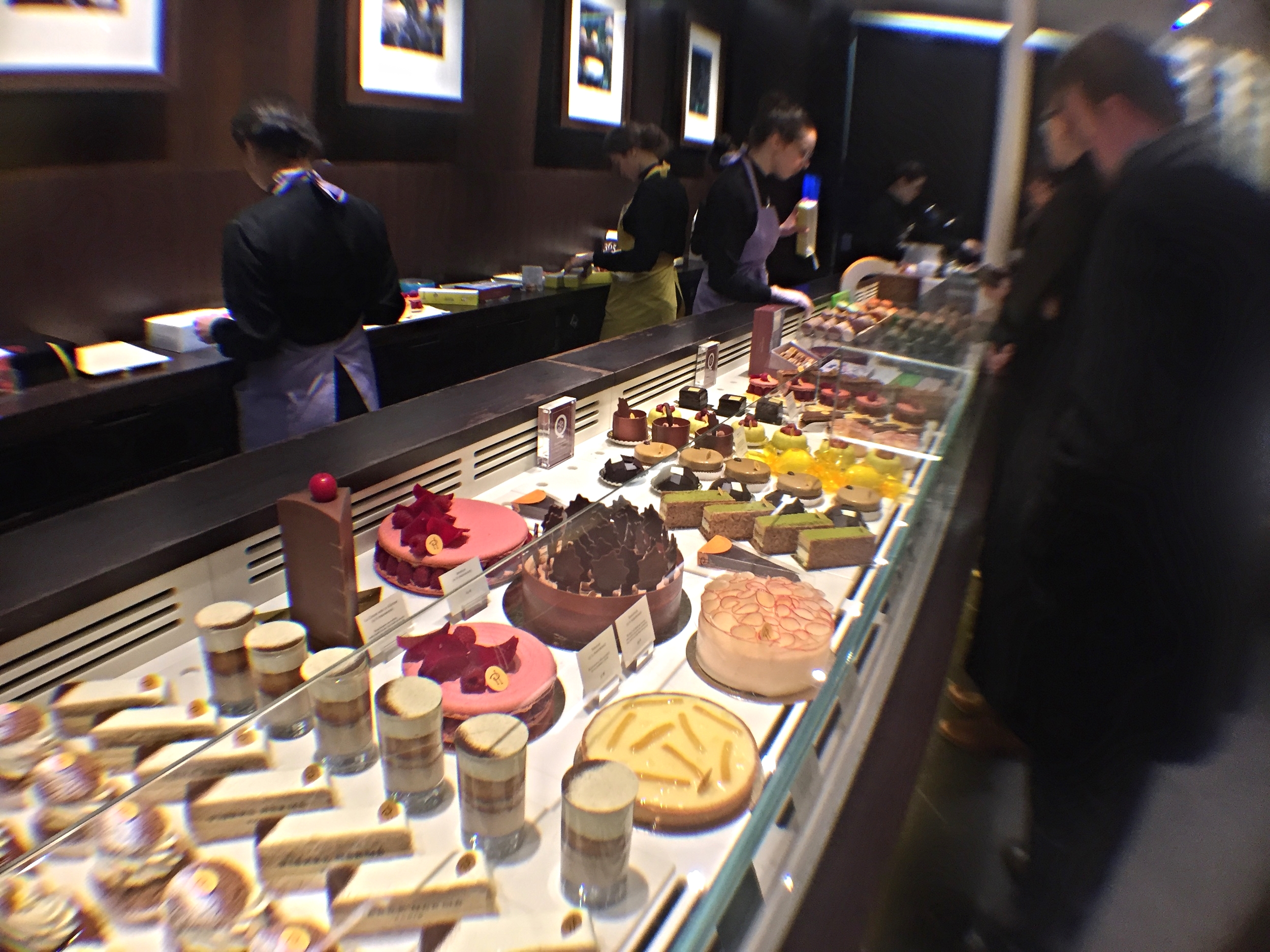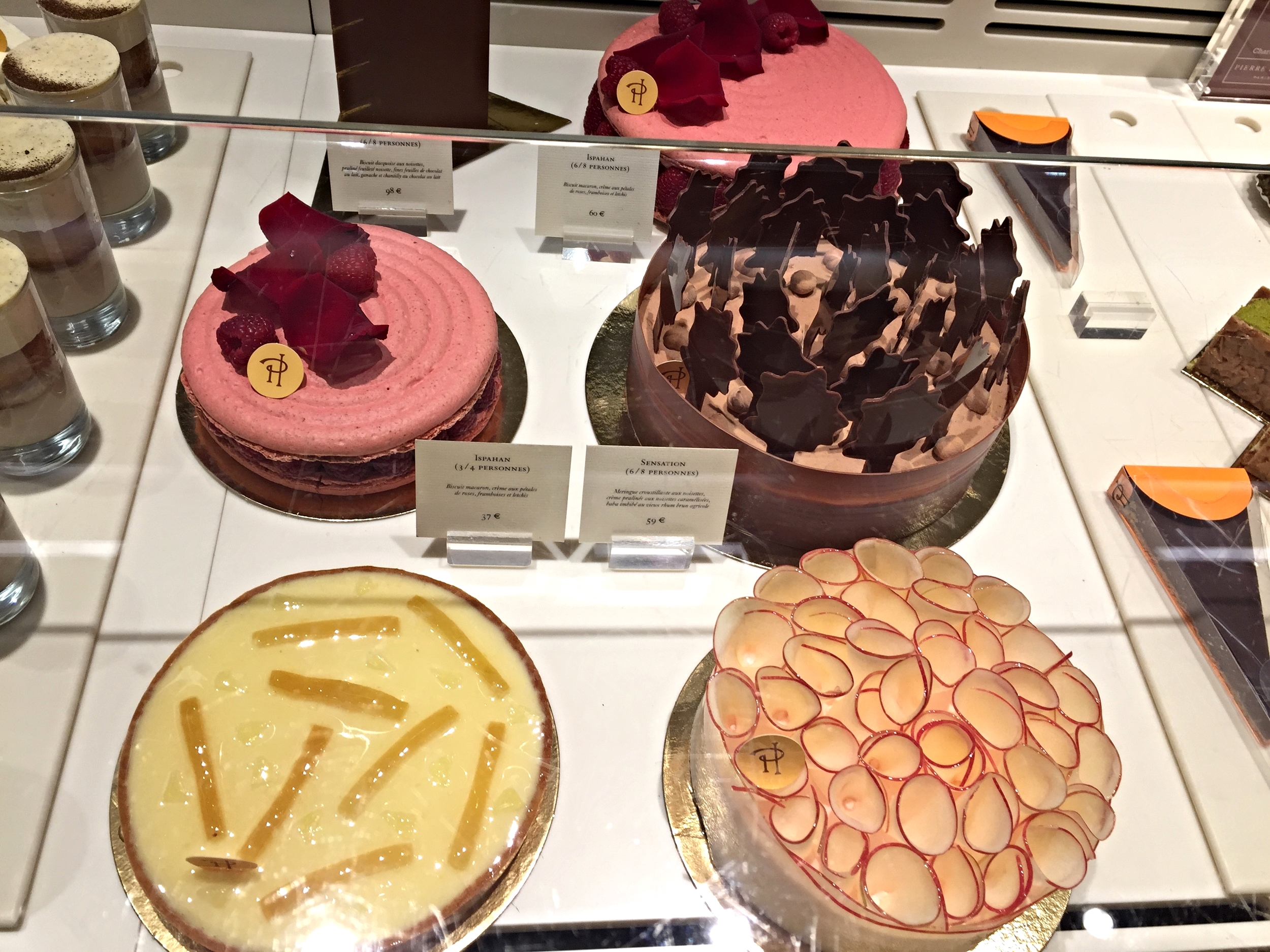 I remember the first time I tried Pierre Herme's macarons. The flavors may sound far-fetched, but he's a master of blending flavors so harmoniously, these little jewels are practically aphrodisiacs. He isn't known as the "king of pastry" for nothing. And you're not here to try plain chocolate macarons.
But try to tear your eyes away from this assortment for just a moment because you'll also find a curious delicacy called "Blond Chocolate with fleur de sel". Oh thank you France. Thank you for showing us that there is more to life than just Dark, Semi-Sweet, Milk, and White. The technique is simple, you cook white chocolate a little while longer until it caramelizes, but the flavor is anything but. It's perfectly salty, with a light hint of caramel, and the taste is reminiscent of the-best-butter-cookie-you've-ever-had (but don't take my word for it, everyone experiences this gold bar differently).
Other things to try:
Any of the chocolate. If you're not a fan of dark chocolate because you can't get over the bitterness, ask for a sample, then yell in anguish because why can't all dark chocolate taste like that?
The Tarte Infiniment Vanille. Confession: I'm not the biggest fan of vanilla (and this has four different kinds) and yet this tart is one of the reasons I wake up in the morning. It's composed of a shortbread crust filled with a layer of vanilla white chocolate ganache, a tender biscuit, a layer of silky vanilla mascarpone cream mousse and glazed with smooth vanilla white chocolate ganache. A decadent hit of the finest vanilla sourced from Mexico, Tahiti, and Madagascar.
The croissants.
Everything.
La Pistacherie
Three words. Pistachio Nut Butter. There are only a handful of places where I will go out of my way to just get one specialty item and this is it. Unlike other pistachio nut butters floating around in the Internet, this one is made by a place literally called "the place that specializes in pistachios" (so they've had a lot of practice), and it uses vanilla.
Jean-Paul Hévin
A chocolate lover's paradise and one of my more recent discoveries. Hévin is considered one of Paris' best chocolatiers; translation: sure you can find some plain dark chocolate confections in here but you'd be missing out.